The New York City Department of Housing Preservation and Development Commissioner Louise Carroll announced the selection of three shared housing proposals through the agency's ShareNYC pilot. The selected proposals were submitted by Ascendant Neighborhood Development and Ali Forney Center, L+M Development Partners and Common, and Cypress Hills Local Development Corporation and PadSplit. While the details of each proposal vary, all proposals include a formal management plan, tenant-friendly layouts and design, and financing structures that allow for deep affordability. ShareNYC will allow HPD to expand its ability to develop and preserve high-quality, affordable housing using various models.
"In Cypress Hills, rising rent costs are pushing longtime residents out of the neighborhood, resulting in a high demand for affordable shared housing. The proposal that Cypress Hills Local Development Corporation presented met that demand and all of its accompanying needs. I'm so proud of CHLDC's thoughtful community-based work on this proposal," said Council Member Rafael Espinal. "I also applaud HPD's decision to move forward on this type of housing development as a part of the ShareNYC initiative. This inclusive choice will set a new standard for truly affordable housing in NYC, so that more New Yorkers can benefit from this model of shared housing."
Shared housing refers to housing units consisting of two or more independently occupied rooms that share a kitchen and/or bathroom. This housing type can encompass a wide range of configurations, and usually includes additional building-wide common spaces. All proposals include detailed management and operations plans, including cleaning services, conflict resolution to address resident concerns, and, in certain cases, programming opportunities for residents.
"The Cypress Hills Local Development Corporation is thrilled to have this chance to develop safe, livable, and deeply affordable shared housing in East New York. ShareNYC will enable us to fully renovate a two-story row house, adjusting the current layout to include a large communal kitchen and living room, 11 rooming units, and eight bathrooms. Shared housing is an exciting and much-needed approach to preventing displacement in our community and providing affordable housing for New Yorkers in small households that being priced out of the market for studios and one-bedroom apartments," said Michelle Neugebauer, Executive Director of Cypress Hills Local Development Corporation. "We are eager to pursue this innovative solution and help establish a model that can be replicated across the city."
HPD selected a range of proposals to explore how the shared housing model can work across a variety of building types found across New York City, such as existing one-to-four family buildings and large or small-scale new construction projects. The selected proposals will serve diverse populations across the city, including current shared housing residents, populations that may benefit from shared spaces that are coupled with supportive services, and small households earning a range of incomes.
The Cypress Hills Local Development Corp proposal details a plan to rehabilitate an existing legal single-room occupancy building in East New York. After rehabilitation, the project will include 11 housing opportunities in a two-story building. All units will be affordable to extremely low- to low-income households. Rents will include all utilities and furniture. The project seeks to retain all existing tenants. Improvements will redesign the building's layout to include thoughtful space planning, spacious common areas, and rear yard enhancements to maximize resident recreational space. The exterior of the building will be preserved to maintain the character of the neighborhood. However, windows will be replaced to improve thermal performance. PadSplit will oversee property management and provide conflict resolution assistance.
Other Developments
EAST HARLEM – Ascendant Neighborhood Development and Ali Forney Center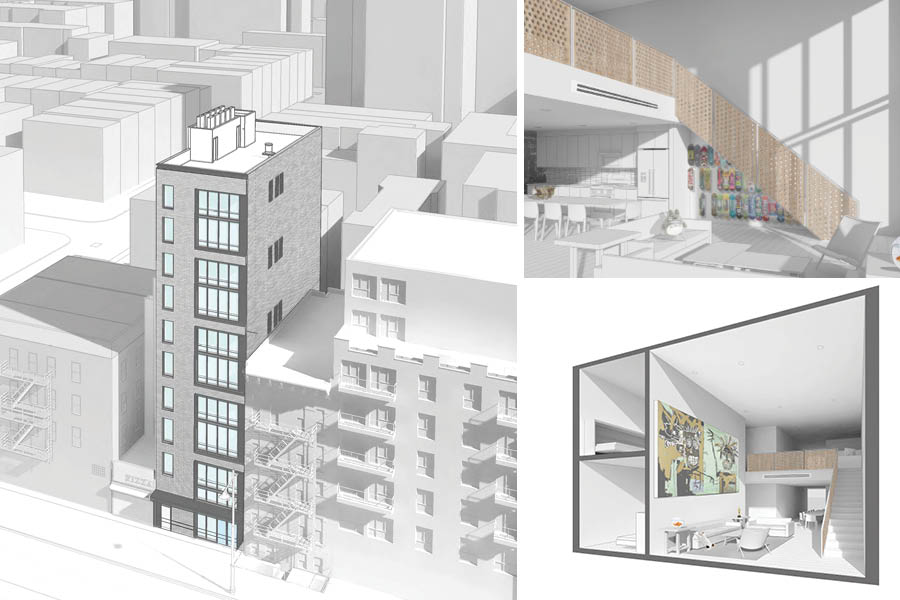 This proposal includes a plan for the construction of a new 10-story shared housing development that will create 36 housing opportunities in the East Harlem neighborhood of Manhattan. The building will include a mix of four duplex shared units and one simplex shared unit. All housing will be affordable to low-income households and are anticipated to be filled with referrals from the shelter system. The building will be fully furnished, and rent will include all utilities. The units are designed to encourage a sense of community and create a home-like environment. Residents will also have access to onsite social services including the Ali Forney Center Life Skills Programming and Life Coaching Retreats. The project will include a variant refrigerant flow heating and cooling system, a green roof, and a rear yard with native plantings that will be open for resident use.
EAST HARLEM – L+M Development Partners and Common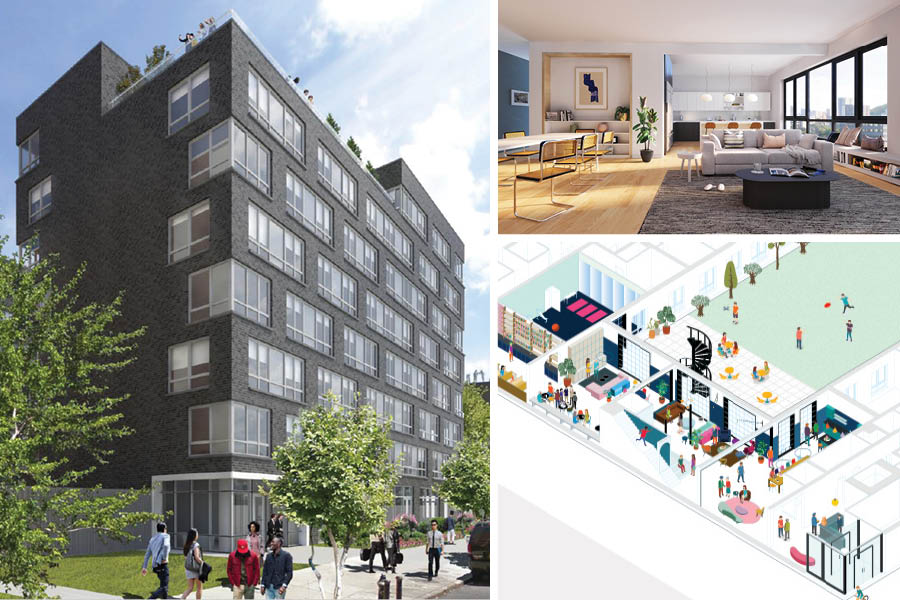 This proposal includes a plan for the creation of 253 new housing opportunities within 56 shared housing units located in two eight-story buildings and 56 shared housing units. Each building wing features a different shared housing typology in order to provide options for tenants who may prefer different housing arrangements. The units in one building are designed around a large central community room with a large kitchen, living room, and recreation area. The units in the other building wing offer a more intimate shared housing scale with a mix of private and shared bathrooms. This development is expected to serve a wide variety of incomes from very low-income to moderate-income households. A third of the larger development will be market-rate. The project will have a resilient, back-up power system that consists of a cogeneration unit, solar panels, and energy storage, dependent upon available funding incentives and financial feasibility. L+M will lead the development of the project on behalf of a joint venture with LIHC Investment Group.
Subscribe to EastNewYork.com to stay updated on housing, development, politics, entertainment, health and more, happening in and around East New York. Also, stay tuned for the launch of "The VOICE of East New York" Video Series. Episodes will include one on one interviews and features on key stakeholders, residents and entrepreneurs who come from East New York.