For rapper and producer KOTA the Friend, celebrating the people that celebrate him is one of the most important things. And on Sunday in Bed-Stuy he kept true to that with an album signing at Bedford Stuyvesant's Skal café the day after his 29th birthday.
Fans lined up for the chance to talk to the Brooklyn-native, pick up a signed copy of his album EVERYTHING, get a selfie in, and even share some of their own art and music with the independent musician.
For KOTA the Friend, Brooklyn is home and the event gave him a chance to reconnect with his community after the long COVID-19 lockdowns – and his community was ready to meet him there. The line to meet KOTA the Friend snaked out of the café and down Lewis Avenue, with fans coming from across the five boroughs, Long Island and Upstate New York, to get some face time in.
"It reminds me of when I first started doing shows and touring," KOTA the Friend said. "The first time I ever saw a line it meant a lot. I'll never forget those moments, when people come to see me, it means a lot."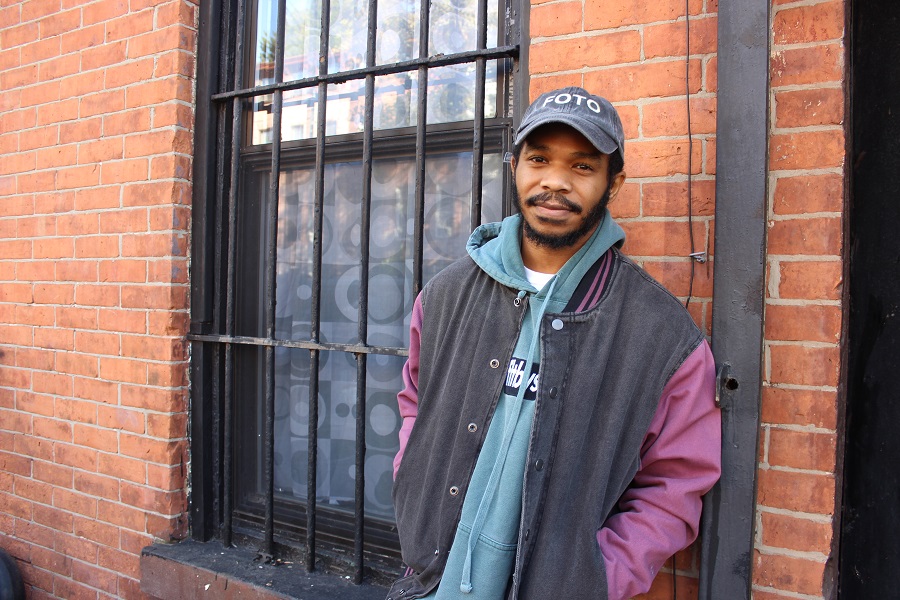 For Jael Thomas, who had brought her dad along, it was the first time she'd been able to see KOTA the Friend in the flesh after being a fan for years. Just the vibe of being there and close to a source of inspiration made her feel positive, she said.
"Everything is one of my favorite albums. One of my favorite songs on the album is Long Beach, it makes me feel catered to. It makes me feel like a queen, honestly. So yeah, there's a lot of positivity with it."
For Ben Wexler, a musician himself, it was KOTA the Friend's honest lyrics and ability to speak to everyday people that inspired him to come out, "I just wanted to show up to support him."
Everything is KOTA the Friend's fourth studio album and features appearances from artists Joey Bada$$, Braxton Cook, Bas, KYLE, and more. The album also includes an interlude track by Lupita Nyong'o, the first song on the Biden/Harris Inauguration Playlist, and one from actor Lakeith Stanfield.
It was KOTA the Friend's first album printed on vinyl, and he said the novelty and nostalgia of a record made it feel right to do the more old school feeling record signing.
"To even see any of my music printed on vinyl is just crazy, it's so hard to come by; you normally need a record deal or record label to be printed on vinyl. So the fact that I'm independent and I'm able to have my music on a vinyl that's being mass produced and sold all over the world, that's a big win," he said.
KOTA the Friend chose Skal, a Danish-inspired café in Bed-Stuy, for the signing, which also hosted a DJ and marketplace for Black creators for the event. Core to the café's aim is creating community events and spaces.
As KOTA the Friend said, "it's all about the give back. It's important on days when I'm being celebrated that I celebrate the people that celebrate me, you know it's always good to give back, even on the days when it's about you."
KOTA the Friend released his debut mixtape Palm Tree Liquor in 2016, following it a year later with his second mixtape, Paloma Beach. His first independent studio album Anything was released in 2018, followed by his second album FOTO in 2019, which was ranked 17th best Hip Hop album of the year by Rolling Stone. His third album, Lyrics to GO, Vol. 1, was released in 2020, along with his album EVERYTHING — which peaked at 162 on the Billboard 200.
In 2021, KOTA the Friend has so far released two albums: Lyrics to GO, Vol. 2 and To Kill a Sunrise in collaboration with Statik Selektah – who turned up to the Brooklyn cafe in support.
"I wanted to say to the fans thank you," KOTA the Friend said. For always supporting me, for always being there, all of the positive messages on social media and Instagram, Twitter, everything."
NOTE: Kota the Friend will be opening his FLTBYS flagship brick and mortar retail store November 11 in Harrisburg PA, and Friday November 12 he will be headlining at Flight Night, the fltbys Music Festival.